I love to get creative in the kitchen so when I heard a fellow T1D complain about the carbs in pizza – I had to take action. I make it a point to insist on a thin crust with healthy toppings, but felt confident there had to be a healthier option. A recipe rumor had been circulating about this mystery, low carb pizza crust made from cauliflower. I was skeptical, but my previous culinary creations with cauliflower were pleasantly surprising – so what the hell, let's do this.
Ingredients:
1 medium sized head of organic cauliflower
¼ teaspoon sea salt
½ teaspoon crushed dried basil
½ teaspoon crushed dried oregano
½ teaspoon garlic powder
¼ cup shredded parmesan cheese

Word on the street – shredding your own block of parmesan tastes better than pre-shredded…

¼ cup mozzarella cheese
1 egg
Instructions:
Preheat oven to 425 degrees.

Place a pizza stone in the oven OR
Place a large piece of parchment paper sprayed with nonstick cooking oil on a baking sheet.

Wash and throughly dry the cauliflower.
Cut off the florets. Pulse in food processor for about 30 seconds, until you get a powdery, snow like consistency. You should end up with 2 to 3 cups cauliflower "snow".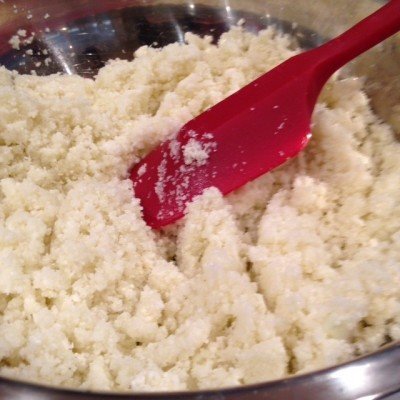 Place the cauliflower in a microwave safe bowl, cover and heat for about 4 minutes.
Dump cooked cauliflower onto a clean tea towel and allow to cool.
Once cool enough to handle, wrap it up in the tea/dish towel and wring the hell out of it. This is great opportunity to get out some aggression… You want to get as much water out as possible to ensure a chewy pizza crust instead of a crumbly mess.
In a large mixing bowl – dump in the drained cauliflower and toss in all of the ingredients. Feel free to mix with your hands for a better consistency.
Use your hands to form the dough into a crust like shape on your oiled parchment paper. You want to create a thin, combined layer.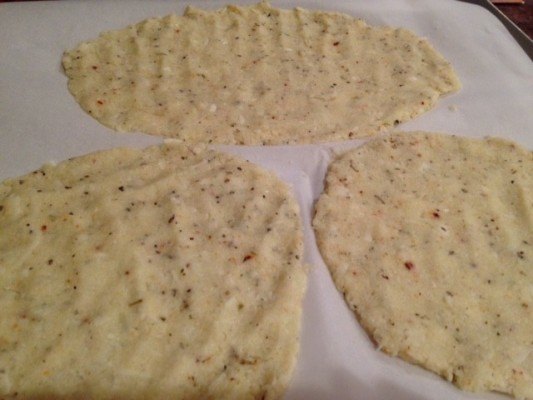 Using a cutting board slide the parchment paper onto your hot pizza stone or place baking sheet in the oven. Bake for 12 – 15 minutes, until it starts to turn golden brown.
Every oven is different, so KEEP AN EYE on things! I removed the crust at the 15 minute mark, flipped it and cooked for an additional 8 – 10 minutes because I like a crispy crust.
Remove and let cool a bit before adding ingredients.
This is where the culinary chef in you can explode. Get creative with the ingredients.

Topping Teasers: sautéed spinach & shrooms, jalapeño, sun-dried tomatoes, black olives, minced garlic… The options are endless.

Once you've stacked your crusts with tons of toppings, place pizza back in the hot oven and cook for another 5 to 7 minutes until the cheese is melted, bubbly, and slightly golden.
Once pizza toppings are melted to your liking, remove from oven, let cool and serve.
Other Options:
1 tablespoon almond meal can be used as a bonding agent
Add crushed red pepper for a spicier crust
I prefer using a thin layer or tomato paste and pesto in place of red sauce. Less carbs (processed sugar) and seems to yield a crispier center of the pizza. You could also do a light layer of EVOO and garlic. YUM!
This recipe is the perfect family affair so get everyone involved. My assistant happen to be my sous chef's cat Ricky. He approved the lower carb option and snook in a few scraps from the kitchen floor.